One cannot help but smile when viewing Annie Greene's charming genre scenes. Her yarn paintings not only delight the eye with bright expressions of color and rhythmic patterns that breathe life into their subjects, but engage the heart through nostalgic glimpses that recall a simpler way of life. Recaptured events, such as "bathing and washing clothes in tin tubs and cooking on wood burning stoves" are some of the fondly remembered subjects of her works. It is no wonder that these irresistible paintings have been purchased by collectors across the country.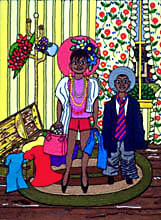 Perhaps it is her extensive thirty-five year history of teaching young people that enables her to recall so much of her own childhood and to capture such a fresh and innocent look at the world and its people. It was in fact her students' enthusiasm that led her to create her first yarn painting. Now retired and pursuing her own art, she says she "can think of more ideas than she has time to capture on paper". She finds inspiration in her travels, daily activities, and childhood memories. And though she does not limit herself to yarn painting alone, it is this form of artistic expression that has brought her the greatest recognition.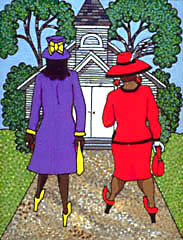 Annie begins her yarn paintings by "sketching up to twelve to fifteen ideas". She explains that it is important to carefully plan the work ahead of time. Unlike working in acrylics or oils, it is not possible to go back over an area. After thoroughly planning the composition and the colors she will use, she decides if adding an acrylic background will enhance the piece. Finally, she begins the process of gluing yarn to her watercolor paper. She likes to experiment and sometimes adds "beads, sequins, lace, ribbons, gold braids, feathers" or other materials to the surface. One material she continues to use is black crocheting thread or fine yarn "to outline the figures and objects" and enhance their whimsical charm.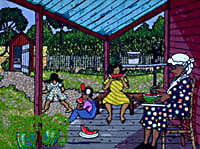 Annie very much enjoys creating her art works and sharing them with others. She has exhibited in nearly thirty solo exhibits and over fifty group exhibits in thirty-five different cities. She has also received numerous honors and awards from juried and invitational shows. Still she would like to increase exposure for her work by exhibiting more widely and marketing her work as prints.