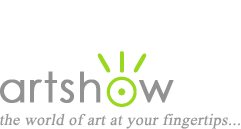 Privacy Policy
Thank you for visiting Artshow.com. Your privacy is important to us. The following statements explain the information we collect, how it is used, and how it is safeguarded.
Visiting pages on our website
When you visit pages on our website, non-personally identifiable information may be collected on an aggregate basis to determine how many users visit our site and to better understand the areas of greatest interest to our visitors.
Signing up to receive updates
We do not send updates via email, but you can follow us on Twitter @ARTSHOWupdates (
https://twitter.com/ARTSHOWupdates
) or Facebook (
https://www.facebook.com/ARTSHOWupdates
)
Purchasing an ad on our website
When you purchase an ad or listing on our website, your credit card transaction will be securely processed by PayPal or First Data (Our staff will not have access to your credit card information). To learn more about how they collect, store, use and protect your personal information, please read
PayPal's Privacy Policy
or
First Data's Privacy Statement
.
Marketing
We do not sell or rent your personal information to third parties.
Linking to other sites
A link from Artshow.com to another website does not imply our endorsement of that website, company or organization. We do not control the websites to which we link and assume no responsibility for their content or privacy policies. Their website privacy policies will govern how they collect, use and disclose personal information that you provide to them.